In Memory
Tammi Emel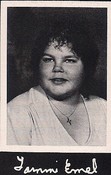 Tammi Jo Emel of 402 Linden St., Lock Haven, has succumbed to the brain tumor she has carried most of her life.
Tammi passed away Dec. 24, 2011 at the Lock Haven Hospital Extended Care Unit, where she was a resident for the last 18 months of her life.
Tammi was born Nov. 22, 1962 to Jane Walizer Whitman, who survives in Lock Haven, and the late Albert Emel.
Tammi wasn't supposed to live beyond her 11th birthday, but she was a fighter and lived a full and productive life for 49 years.
She graduated from Lock Haven High School in 1980 and State Beauty School in Williamsport. She was employed at Jane's Touch of Class Beauty Salon for many years.
Tammi was also a lifetime member of the Rainbow for Girls, Lock Haven Assembly No 62.
Tammi touched the lives of everyone who knew her. Her strength and determination throughout her life in dealing with her illness inspired all she came in contact with. Spending time with family and friends was most important to Tammi. She always made everyone smile and laugh. Traveling and visiting new places were some of her favorite experiences. Tammi loved animals, especially her dogs, Morgan and Zoie. She enjoyed making gifts for her family and friends. Her favorite creations were crocheting and needlepoint. Each item was made with the love and care she felt for those close to her. Family and friends could always count on receiving beautiful handmade items from Tammi each year at Christmas.
In addition to her mother, Tammi is survived by brothers David (Tami) Emel of Lock Haven and Mike Krott of Bradford; step-brothers Jeff Whitman and Craig (Penny) Whitman of Beech Creek; step-sisters Debbie Whitman of Lock Haven, Valerie (Tim) McAndrew of Sweet Valley, Christi (Gerald) Vinski of Gibsonia, Kristine Lamey of Florida and Mitzi (Mike) Laubach. Tammi is also survived by many aunts, uncles, nieces, nephews, cousins and friends who loved her dearly.
Tammi was preceded in death by her brother Duane Walizer; step-father Fred Whitman and father Albert Emel. Grandparents Richard Walizer, Doris Walizer, Ann and Frank Ray and Danny Whitman, Jeri Ripeny also predeceased Tammi.
The family would like to thank all the doctors, nurses, staff and volunteers of the Extended Care Unit for the outstanding care they provided for Tammi. Thank you also to the staff of Susquehanna Health Home Care and Hospice, which offered extraordinary care and comfort during this time. A special thank you to all of our family and friends that have made Tammi's life so rich and full, especially Eleanor Brungard for the time she dedicated to caring for Tammi.
Funeral services will be Thursday, Dec. 29, 2011 at 11 a.m. at the Donald G. Walker Funeral Home, Flemington. Burial will be in Cedar Hills Cemetery, Mackeyville. Friends will be received at the funeral home on Wednesday, Dec. 28, 2011 from 6 to 8 p.m.