In Memory
Jean Laubscher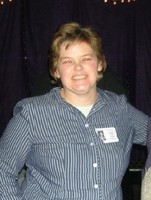 It is a sad day as an Administrator when I have to change the status of one of our classmates.
Jean E. Laubscher, 51, a former resident of Lock Haven, died in Scotia, N.Y.
She was born Sept. 8, 1962 in Lock Haven, a daughter of the late Jesse and Lola (Maggs) Laubscher.
Jean was married to Judith Klocitas who survives.
Jean worked as a personal aide for Consumer Directed Choices, Albany, N.Y.
Also surviving are one sister, Alicia Gaines of Karthaus; a brother, Jesse (Deb) Laubsher, Jr. of Snow Shoe; and one step-sister, Marvie Heichel of Lock Haven.
Her parents and a stepmother, Betty Laubscher, preceded Jean in death.
A visitation for family and friends will be held Friday from 1 to 2 p.m. at the Helt Funeral Chapel, 232 Hogan Blvd., Mill Hall.
Private interment will be at Swissdale Cemetery.
Send condolences at BestLifeTributes.com.