In Memory
Donna Hill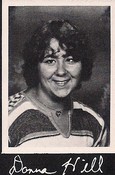 This is from the original Obituary from The Express
LOCK HAVEN -- Donna K. Hill, 26, of Lock Haven died at 2:20 p.m. Sunday April 17, 1988. She was a passenger in a car that crashed on the Sugar-Lusk Road in Bald Eagle Township.
Born in Jersey Shore on October 7, 1961, she was the daughter of Floyd Hill of Castnea and Elizabeth Streck Hill with whom she resided.
A 1980 graduate of Lock Haven High School, Miss Hill worked at Mister Donut shop. She also worked at McDonald's Restaurant.
Surviving along with her parents are a daughter Judy Hill of Plum Run; a brother, William Hill of Stroudsburg; and a maternal grandmother, Mildred Snyder of Avis.