In Memory
Randolph Ungard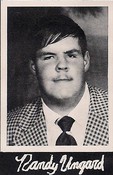 Randy E. Ungard, age 47, of 335 Center St., Lock Haven, passed away Thursday, March 11, 2010, at home. He had been in failing health.

Randy was born in Lock Haven on April 9, 1962.

He was the son of the late Edward H. Ungard and Josephine Nichols Ungard, who survives, of Lock Haven.

Randy was a 1980 graduate of the former Lock Haven High School, where he was a manager for the football and wrestling teams and a member of VICA.

He had worked for Kohen's Cleaning and the former Big Wrangler Steak House for a number of years.

Randy was a devoted and dependable carrier for The Express newspaper for 10 years, delivering to thousands of customers throughout the greater Lock Haven area.

He will be sadly missed by his family at The Express.

Randy was an active member of the Lock Haven Moose Pool League, and was an active Clinton County Little League softball announcer.

He was a member of First Church of Christ, Lock Haven.

Randy also was a Lock Haven Area Jaycee. In fact, he was a long-time, active member of the Jaycees. He was instrumental in many different Jaycee programs, including the annual Community Service Awards, radio auction and Jaycee awards for the outstanding senior football players during homecoming games at Lock Haven and Central Mountain high schools.

Surviving, besides his mother, are a number of aunts.